San Fransisco is one of the most vegetarian friendly cities I know. With vegetarian options in all restaurants that I have visited and many pure vegetarian and even vegan eateries its vegetarian heaven. With options for all economic levels, even broke college students can enjoy a great vegetarian meal.
I have compiled a list of my favorite vegetarian joints.
Saturn Cafe - Berkeley, CA and Santa Cruz, CA
This is my favorite hands down. It started off just in SC. Anytime I would go down to visit friends I would make it a point to stop at Saturn Cafe. When they opened a second establishment in Berkeley I was ecstatic. This vegetarian diner is futuristic space meets 50's diner. The menu includes Space Cowboy Burger, a veggie burger topped with fakin' bacon, cheese, onion ring and BBQ sauce, and Nacho Fries, thin cut fries topped with black beans, vegan cheese, jalapenos, guac, and vegan sour cream...my mouth is watering now. With vegan milk shakes, best homemade desserts, and a entree priced around $10, its a hit for any occasion, just remember to invite me.


Souley Vegan - Oakland, CA
Do you like Soul food? I sure do. If you want some home-cooked soul food that is completely vegan you have to try Souley Vegan. With the common dishes such as fried okra and black eyed peas and the more unique vegan mac and cheese and BBQ tofu burger is bound to make your taste buds happy. With the everything plate you can taste a little of everything without breaking the bank, and its great to share. With entrees ranging from ($6-10/ person) its a great option for those who are trying to save buck or two.
Cheese Board Collective-Berkeley, CA
This cooking cooperative only serves one type of pizza a day, you can find the today's pizza on their website, but I have never been disappointed. A whole pizza is only $20 and can be split among 3 people, they even throw in a couple extra pieces on top. Their toppings are always interesting, potato, pine nuts, lemon zest, roasted brussel sprouts, and curry boccolini. Their is sparse seating, but everyone hangs out in the grass on the median of the road.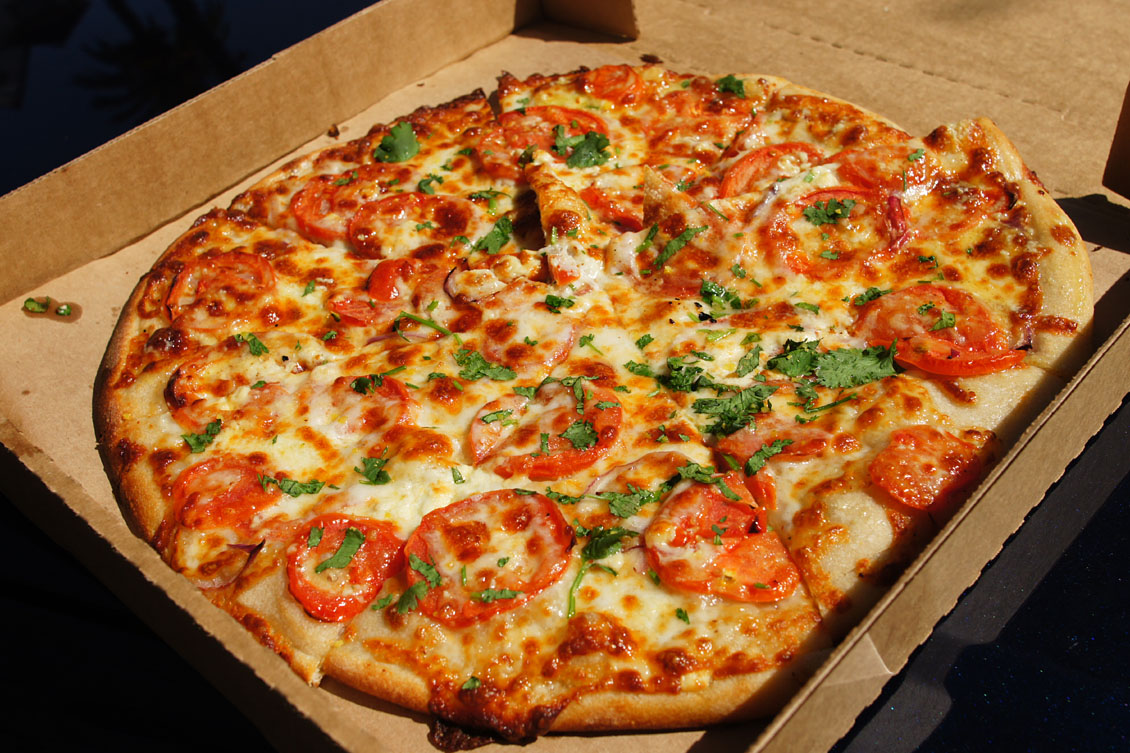 Cha-Ya
This pure vegetarian Japanese restaurant offers a variety of dishes that will not have you asking "You sure its vegetarian?" Curry Udon soup full of cute shaped vegetables, tofu and plenty of noodles and all vegetarian sushi stuffed with cucumber, avocado, tofu, and asparagus, are just a few of their offerings. Be ready to spend $15-20/ person.


Udupi Palace - Berkeley, CA
Even if you have never been to India you can get a little taste of South Indian cuisine at vegetarian Udupi Palace. Try a masala dosa, pancake like bread stuffed with spiced potatoes, served with chutney dipping sauce and make sure to try the batura bread, the pillow shaped bread with curry can't be missed. Its menu has dishes from all over India but they specialize in South Indian cuisine. Prices are reasonable with $10 per entree.
Herbavore - Berkeley and SF, CA
This is a more upscale diner. It offers a wide range of options to be explored. Everything from Indian to Mexican and Thai to good old American food can be tried here. This is a great place to take the family if they are a little "all-vegetarian" skeptical. My parents loved it, if I had not told them its all vegetarian, they would have never guessed. Faux meat includes from tempeh to seitan, beef strips, and chicken chunks. If you don't read the sign you might really think you are eating chicken. This restaurant is a bit pricier, expect $20 a person.
Life-Long Veggie House - Berkeley, CA
This small restaurant could be missed if your just cruising around near UC Berkeley campus. Its typical Chinese restaurant sign does not stick out among the many other Chinese restaurants on University Ave, but its bargain is well know to Berkeley vegetarians. With lunch specials for only $5, inducing entree, rice, soup and a spring roll, you cant go wrong. Try the Mongolian beef or the sweet and sour pork, don't worry its all vegetarian. It can be a hit or a miss, but those two are hands down my favorite, and if you are a college student on a budget, they wont break the bank or the student loan.
Flacos- Berkeley, CA
flacos.com
Did someone say tamales? Yes this place has all your Mexican favorites all vegan and delicious. Don't lets its small menu detour you from this amazing place. With all entrees under $9, you are bound to get a great deal.
Cafe Gratitude - Locations in Berkeley, Venice Beach, LA and Santa Cruz, CA
This more natural hippie vegan establishment is popular among the yuppies. Its all 100% organic raw food menu boasts many food options not heated over 46C (115F). Wow that's the temperature it was in Dehli, India when I was visiting I could have done some cooking. With warm rice bowls, my favorite being the seaweed one, sun burgers and cold coconut soup it can take a little getting use to but is a great way to try something new. With food options with names like I Am Pure and I Am Fulfilled, it will get you thinking about what you are grateful for, definitely all the vegetarian options in the East Bay. Prices are a little steep for college students but for a special occasion its a great way to spend that extra loan money. $20-25/ person.